Disability Cart Service
Disability Cart Service
---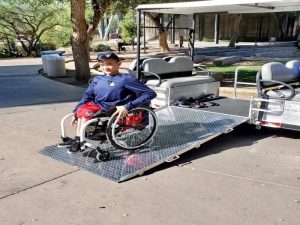 The Disability Cart Service Program is a free service that is provided to all University of Arizona students, staff, faculty, and public participants in UA campus programs who have a permanent or temporary impairment that creates a need for special transportation services.

To qualify for Disability Cart Service, the prospective rider MUST obtain approval through the University Campus Health OR Parking & Transportation Services. For obtaining approval through Campus Health, please see below information:

Campus Health: (520) 621-9202, 1224 E Lowell St, Tucson, AZ 85721

If the prospective rider is interested in getting approved directly through Parking & Transportation Services, they must fill out the form below. Instructions on how to submit the form can be found on page 2 of the approval form.


Disability Cart Service Approval Form.

Once Campus Health or Parking & Transportation Services grants approval, Parking and Transportation Services will retain the approval letter and the rider will be sent a welcome email that contains further information about the operations of Disability Cart Service.

---
Helpful Tips
Every attempt will be made to meet the riders request please allow for sufficient travel time. If your class begins at 10 AM, schedule your pickup time for 9:45 AM.

Please be on time. Drivers will wait 2 minutes for riders then proceed to the next scheduled pickup. If the rider is late and misses their scheduled pickup, they must request an Addon Pickup using the online Disability Cart Service Tool.

Riders must adhere to the DCS Regulations and Rules, see below.

Riders are responsible for requesting approval forms from Campus Health or Disability Resource Center and submitting to PTS.
Regulations and Rules
Conduct
Riders are required to treat the Cart Service drivers, Office staff, and all other riders with respect at all times. Inappropriate language and/or behavior is unacceptable. Parking and Transportation Services reserve the right to deny service to anyone.
Transport
Riders are required to wear a seatbelt while being transported unless injury or condition would preclude them from doing so. Only riders approved to use Disability Cat Service will be transported.
Scheduling Rides
Advanced scheduling is required. Ride reservations must be submitted at least by 7PM the day prior to the scheduled pick up. Rides submitted after this time will be added onto the On-Call cart itinerary. All rides placed on this itinerary are on a first come,-first-served basis. No exceptions. Wait times for these rides will vary and pick up and drop off times will not be guaranteed. Ride requests are given priority based on when they are submitted to the scheduling portal.
Tardiness
Disability Cart Service assumes no responsibility for late arrivals at the designated pickup points. Drivers will wait 2 minutes for the rider then driver will proceed to the next scheduled pickup. If the rider is late and misses their scheduled pickup, they must call to request another ride. In case of urgent circumstances, riders may call Disability Cart Service at 626-2278. Persistent tardiness may result in the suspension of services.
No-Show
A rider is considered a No Show if the rider fails to board or fails to be ready to board during the established window of service. Failure to show at your designated pickup point four (4) times in an academic year may result in a cancellation of service.
Ride Cancellation
30-minutes notice for cancellations must be provided to Disability Cart Service on the portal or via phone (626-2278). If the rider is unable to notify us 30-minutes in advance due to serious illness or other emergency circumstances, contact Disability Cart Service office at (520) 626-2278 as soon as possible.

Disability Cart Service Ride Scheduling Instructions for Passengers.

If you experience any disability-related barriers in scheduling through the Disability Cart Services portal, please call (520)626-2278