Bicycle Parking
2013 - 2014 Bicycle Locker & Enclosure Registration Dates
CURRENT BICYCLE LOCKER & ENCLOSURE CUSTOMERS
An email with instructions for renewal will be sent April 22, 2013.
Rental Agreement and payment are due by May 10, 2013, 4:00pm.
Bicycle Locker - $100 Annual (PLUS AN $80 REFUNDABLE KEY DEPOSIT)
Bicycle Enclosure - $35 Annual

NEW BICYCLE LOCKER & ENCLOSURE CUSTOMERS
Register beginning May 13, 2013 by calling Customer Relations at (520) 626-PARK (7275).


Parking Your Bicycle on Campus - 2013 - 2014

Bicycle Enclosure & Locker Rental Agreement
- 2013 - 2014
Bicycle parking is available throughout campus and is designated by the presence of bicycle racks, lockers, and/or specifically designated bicycle parking areas/enclosures. Bicycles must be parked at a rack or within the boundaries of designated bicycle areas/enclosures and properly attached to a bicycle rack or secured within a bicycle locker.
We realize that for many of you, your primary means of transportation is your bicycle and we want to help you protect your property. Parking & Transportation Services has the solution for your secure bicycle storage and parking needs:
Bicycle Racks: Bicycle racks are located conveniently around almost every campus building. There are over 11,000 bicycle parking spaces on the UA campus. Locating bicycle parking close to your class or office will not be a problem for those riders who possess a good U-Lock.

Bicycle Valet Parking: Located in front of the Nugent Building. No worry about having a bike lock, no looking for a bike rack space. Just stop, check-in and go!

Bicycle Lockers: Bicycle Lockers: Lease an individual high-security bicycle locker. Fee prorates daily. No refunds after April 4, 2014. Currently, we offer bicycle lockers in the following areas -
(Click Here for map):
· AHSC (located near the bus stop on Drachman Circle (16 lockers)
· AHSC - Pharmacy (10 lockers)
· Bio Sciences East Bldg (8 lockers)
· Bio West Bldg. N.E. side (40 lockers)
· Cherry Garage (12 lockers)
· Comstock Bldg. N.E. side (12 lockers)
· Harshbarger/Engineering (13 lockers)
· Keating Bldg. N.E. side (10 lockers)
· Life Sciences South Bdg (12 lockers)
· Lot 3039 (12 lockers)
· McClelland Bldg. (14 lockers)
· Nugent Bldg S.E. side (12 lockers)
· Chavez Bldg. S.E. Side (10 lockers)
· Psychology Bldg. (14 lockers)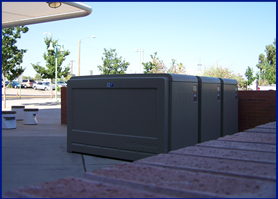 Lease a bicycle locker at AHSC on Drachman Circle.

Bicycle Enclosures: Convenient, gated, keyless entry locked enclosures with individual assigned spaces that are security fenced, covered and protected from inclement weather. The enclosures are located inside the following Parking Garages and have the following bike parking spaces (Click Here for map): Main Gate (42 spaces), Tyndal - North side (24 spaces) South side (58 spaces), Park (20 spaces), Highland (36 spaces), Cherry (15 spaces), and Second Street Garage (15 spaces). The Main Gate Garage has free-standing metal parking stanchions. The other bike enclosures contain bicycle racks. You will use your own U-Lock to secure your bike in its assigned space and be given a unique individualized entry code.

Fees: $35 annual rental, 5/13/2013 - 5/16/2014. Fee prorates daily. No refunds after April 4, 2014.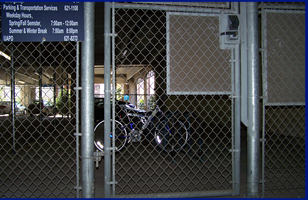 Convenient gated, locked bicycle enclosure at Main Gate Garage

Answers to your questions about the Emergency Economic Stabilization Act of 2008.
Please call our Customer Service Representatives at 626-PARK (7275) for more information.
Visit

Campus Bike Routes for a map of all UA campus bicycle routes and bicycle parking locations.


| | | | |
| --- | --- | --- | --- |
| | | | |